23-06-2014, 08:07 PM
(This post was last modified: 23-06-2014 08:25 PM by DaveK.)
Cat
VTTV Team


Posts: 219
Likes Given: 2
Likes Received: 39 in 24 posts
Joined: Feb 2011
Reputation: 1
Mark Jones
It is with deep sadness that we have to share with you the news of the death of our colleague and friend, Mark Jones, co-presenter of Tin Your Tip.
Mark, who would have been 40 years of age on the 15th July 2014 joined Vapourtrails as a presenter in 2012, but had been part of the crew before then. His gentle manner and lack of ability to say no, soon caused him to join up with Garry Dibley, and the ModMaster was born.
But Mark did much more than present Tin Your Tip, he managed our forums, was the Technical Genius behind TeamTalk, and as Sav and I called him, The Guru, if there was anything we needed to know, Mark was our man.
But he was much more than that, he was our friend, and his passing will affect us all for a long time to come.
Garry described him as a Big Man with Big Heart, and that he was... we will miss him greatly..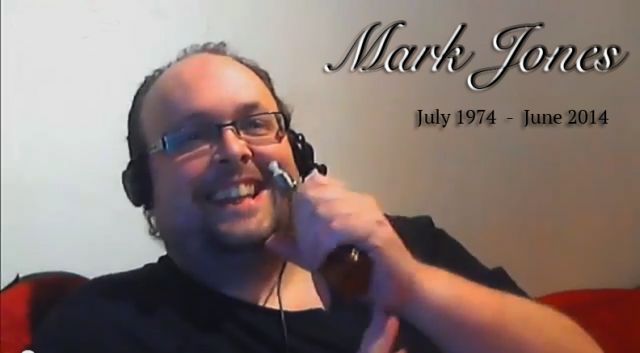 The following 3 users Like Cat's post:
3 users Like Cat's post
DaveK
(06-24-2014)
,
GizmoTronic
(06-28-2014)
,
yoda1970
(07-19-2014)
24-06-2014, 04:32 PM
(This post was last modified: 24-06-2014 04:33 PM by tribanthium.)
tribanthium
Registered User

Posts: 22
Likes Given: 1
Likes Received: 4 in 2 posts
Joined: May 2012
Reputation: 0
RE: Mark Jones

Mark Jones was a true gentleman. Always willing to help and offer advice. I am still in a state of shock. My heart goes out to his family and all the VTTV Team who knew him personally. It is a very sad loss. Rest in peace Mark, you will be sorely missed by us all.
The following 3 users Like tribanthium's post:
3 users Like tribanthium's post
DaveK
(06-24-2014)
,
Rob
(06-27-2014)
,
yoda1970
(07-19-2014)
27-06-2014, 08:02 PM
Rob
Registered User

Posts: 34
Likes Given: 4
Likes Received: 3 in 2 posts
Joined: Jan 2012
Reputation: 0
RE: Mark Jones
Have not been on for a while but was shocked and saddened to hear of Marks passing. My most sincere condolences to his family and friends and as tribanthium has said Mark will be missed.
Rest in peace Mark, will look out for your clouds
The following 2 users Like Rob's post:
2 users Like Rob's post
DaveK
(07-01-2014)
,
yoda1970
(07-19-2014)
User(s) browsing this thread: 1 Guest(s)